-- ELECTRONIC MODELS --
CARDINAL LOAD CELL MODEL:
SCA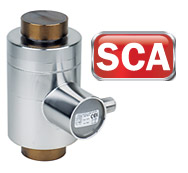 The SCA heavy-capacity series of compression load cells are ideal for heavy-duty truck scales like Cardinal's YUKON™. These load cells are fabricated from stainless steel to provide quality protection when caustic, corrosive, or wet environments are encountered. The model SCA load cells are environmentally-sealed for absolute water protection (IP68).
STANDARD LOAD CELL WITH YUKON™
SCA ELECTRONIC LOAD CELL

Accuracy Class

IIIL 10000 / C3

Safe Load Limit

150% R.C.

Ultimate Load

300% R.C.

Material

Stainless Steel

Rated Output

2mV/V

Protection Class

IP68